April 30, 2019 – Fraud – J.T. Thorpe Annual Report
We are witnessing the "definition" of corruption, fraud, and bad faith at the billion dollar J.T. Thorpe, Inc. and Thorpe Insulation Asbestos Trusts
Day after day, Fiduciaries/Trustees are committing fraud at the Trust. And the 2019 Annual Report for the J.T. Thorpe, Inc. Trust is the perfect example!! see –  2019 J.T. Thorpe Annual Report Fraud – Identical Fraud in Thorpe Insulation
Look no further than pages 12 and 13 of the report!  The J.T. Thorpe's corrupt and fraudulent case against the Mandelbrot Law Firm is mentioned. What a pack of Trustee Lies!
Everyone knows the entire case against Mandelbrot was a complete sham designed to divert money to "insiders" (Alan Brayton, Gary Fergus, Stephen Snyder) and most importantly – to suppress legitimate asbestos victim's claims…Complete Extortion.
But that's not the best part of the fraud and deception in the  J.T. Thorpe, Inc. 2019 Annual Report.
Here is the Fraud: Page 14 lines 7-12 state: "In addition, Mr. Mandelbrot continues to publish allegations of Trust fiduciary misconduct similar to those adjudicated before the U.S. Bankruptcy Court for the Central District
of California and to post allegations against Trust personnel regarding fraud, corruption, bias and
preferential treatment on his blog. The Trust previously investigated these accusations through
outside counsel, who reached the same conclusion as had been reached by the Trust in years past –
– that the allegations are meritless. "  
THIS IS A LIE. ABSOLUTE AND UNQUESTIONED FRAUD DESIGNED TO DECEIVE THE U.S. TRUSTEE, DEPARTMENT OF JUSTICE AND ASBESTOS VICTIMS….
The J.T. Thorpe, Inc. Trust has never properly investigated the allegations! For example:
1. Has the Trust ever investigated fraudulent claims and fraudulent payments to Alan Brayton? No! Why wasn't this fraud investigated? Brayton has stole millions! – Brayton Fraud and Malpractice, Evidence of Insider Dealing – Snyder.
The best part? Trust Executive Director Sara Beth Brown was deposed and learned all about the fraud – and hid the information from Annual Reports – why? To perpetuate fraud!! Here's the deposition of Brown – Brayton committed fraud!! FRAUD/CONCEALED Depo-Sara Beth Brown – NOW DISCLOSED – Was this properly investigated? If it was – Brayton would have had to pay back $500,000 in funds and removed as Trustee.
2. Has the Trust ever investigated the $50,000,000 stolen by "Fiduciaries" Stephen Snyder and Gary Fergus? No! It's right here in Annual Reports: Brayton, Kazan, McClain and Snyder Stealing 47 Million from Victims
3. Has the Trust ever investigated the Tax Fraud of Alan Brayton?? Tax Fraud – Brayton – Concealing Funds Stolen from TrustsTax Fraud – Brayton – Concealing Funds Stolen from Trusts. Brayton tried to deceive the IRS and hide Trust funds (he stole). He got caught concealing at least $8,000,000 in income!! Were those allegations investigated? Fraud would preclude Brayton from serving as Trustee.
4. Did the Trust ever Investigate the "Insider Dealing" of Gary Fergus (since FIRED from the Trusts after my allegations were made public)? Fergus STOLE at least $10,000,000 from the Trusts in Reno. Will the victims ever see that money??Motion Detailing Fergus Insider Dealing
Exhibit Fergus Affidavit Detailing Adverse Interests and Involvement in Payments to Brobeck – Grounds for Disqualification!
It should be noted that Fergus was 'central' in awarding his old law Firm and partner Stephen Snyder (also the Managing Trustee) over $35,000,000 from the Trust. An undeniable theft from victims. Exhibit 5 – WAST Annual Reports – Detailing Theft of Funds by Snyder, Fergus, Brayton, McClain
5. Has the Trust ever investigated the disturbing misappropriation of funds to Sara Beth Brown and Laura Paul (the Trust's Managing Director)? Why were these two even hired by the Trust? Brown was FIRED from her prior job (IGT) for THEFT. Paul was a cocktail waitress in Reno with ZERO legal background (and 4 kids of 4 different dads – clearly irresponsible). Since employment – BOTH rarely work and use the Trusts as their personal piggy banks!!! Many former employees have called and told me about after work parties (always paid for by victim's money) to watch the Bachelor and other shows – fully catered – weekly. This is victim's money they are stealing!!! How about these 2 taking over $250,000 to send the staff to San Francisco for a party! Here's proof!
You can't make this stuff up!!! These 2 should be jailed for theft! Was that investigated?
6. Has the Trust ever investigated the relationship of Trust Counsel Eve Karasik and Corrupt Judge Sheri Bluebond? Bluebond KNOWS the J.T. Thorpe, Inc. Trust is run as a "Cartel"  – but ignores theft, fraud, bad faith lawsuits, perjury – all to protect her friends! Chart – Bluebond – Following the Money – Following the Corruption
Judicial Complaint – Who reviewed it? Former Judge Kozinski – who appointed Bluebond…??
Unethical E-Mail from Sheri Bluebond March 24, 2016 Exemplifying her Insider Dealing, Fraud, Favoritism
7. Has the Trust ever investigated the Perjury of Steven Sacks – the Trust's lawyer? This buffoon is known perjurer, fraud, and sham artist – why is he involved with ANY Trust activities??
8. Has the J.T. Thorpe Trust ever investigated the fact their the Trust's entire cases against my office were built on PERJURY? Of course not since they are guilty of the subornation of perjury.
Laura Paul – Director of Claims – Perjurer.
Sara Beth Brown – Executive Director – Perjurer.
Stephen Snyder – Managing Trustee – Perjurer. One of the most dishonest attorneys in the Country. Reminds me of William Barr. A real sick human being.
Steven Sacks – Trust Attorney – Perjurer – Blatant false testimony against Mandelbrot
John Lynch III – Trust's Former Employee – Perjurer – Convicted Felon – Stole thousands of Trust (this was the J.T. Thorpe and Thorpe Insulation's star witness against me. Lynch III had also stolen $15,000 from a another Trust employee. Here's the proof (concealed by the Trust during the case) – Sworn Statement by Trust Employee Barbara Malm that Lynch is Perjurer and Drug Abuser
Letter to Trust -Notification of Lynch Felony
Judge Sheri Bluebond – Perjurer – The most corrupt Judge in the Country
9. And Finally….HAS THE J.T. THORPE INC. TRUSTEES EVER INVESTIGATED WHY TRUST FUNDS WERE USED FOR ALAN BRAYTON'S WEDDING? Of course not – Trust funds paid for the entire staff to attend the wedding AND paid for the buffet at the wedding. Here's undeniable proof!
E-Mail dated September 25, 2015 to Brayton's Wife from Trust on Reimbursement for Wedding Dinner
E-Mail dated September 25, 2015 from Trust Accountant to Brayton's Wife
Actual Check proving Misappropriation – Check from Western Asbestos Trust to Brayton's Wife Lisa Correnti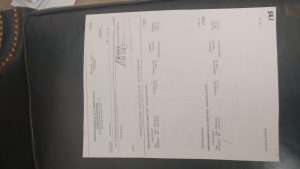 This is undeniable theft!!!
So what exactly have these criminals at the J.T. Thorpe Trust Investigated? Nothing.
I've objected to their Annual Report before – and what happened? Judge Sheri Bluebond (the Trust Fiduciaries "Lap Dog") 'struck' the Objection so she could perpetuate fraud.
13-43677.Objection to Annual Report – Here's the Objection
Declaration of Michael Mandelbrot.Objection to Annual Report
Department of Justice – Here's some pictures of those committing fraud at the Trust!
Laura Paul (1) – A Picture of Reno Sparks Biggest and Dumbest Thief – Laura Paul
Exhibit E – Declaration Detailing Trust Fraud – 2015